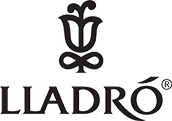 Lladró is the success story of an iconic Spanish brand. A world leader in the design, manufacturing and distribution of porcelain art creations, Lladró is a unique mix of talent, audacity and meticulousness in the quest for excellence.
From sculpture to lighting, home accessories and jewelry, Lladró is a brand that stands for a contemporary, stylish and exclusive lifestyle.
In 1953, at their home in the village of Almàssera, they began to make their first plates, vases and ceramic figurines inspired by the works of the great European manufacturers of Meissen, Sèvres and Capodimonte.
It is in this period that the modeling of flowers or the complex treatment of tulle first appeared, examples of virtuoso techniques that we still find today in many of the brand's creations.