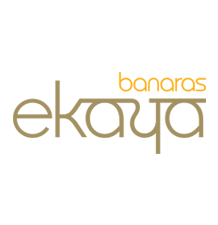 Ekaya is a contemporary, bespoke handloom brand presenting the finest works of textile art from the Indian craftsman's repertoire. It has been brought forth by one of the country's best-known families renowned for preserving the tradition of Banarasi textiles for over four generations and is led by Mr. Bharat Shah (Director) and his daughter Ms. Palak Shah (CEO).
All of Ekaya's products are hand-woven and hand-made, supporting and empowering over 10,000 weavers from Banaras, as well as craftsmen from various corners of the country. Each product is woven using the finest quality of raw materials in the most sustainable way possible and takes anywhere from 200 hours to 1000 man-hours from start to finish.
The brand was established with the vision to change the way handloom textiles are sold and presented in India, with the aim towards reinforcing and asserting the traditional textile's place in fashion's luxury platform. The brand offers the sophisticated consumer at both national and international level a very distinct product line based on the principles of heritage and artisanship. Ekaya was the first textile brand to adopt the collaboration model between renowned designers and the weavers, which helped the brand, not just provide its clientele a new and a fresh product range but also helped brand a traditional textile as a luxury product.
The brand currently has four retail outlets in India- Delhi (2012), Ahmedabad (2013), Hyderabad (2017) and Mumbai (2019) along with an ecommerce platform (www.ekaya.in). The stores offer textile connoisseurs and enthusiasts the opportunity to re-discover and experience the unparalleled craftsmanship of hand-woven fabrics.