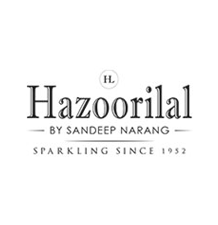 For over 65 years, Hazoorilal has been a jeweller who has cherished the importance of heritage, style and innovation. The brand Hazoorilal was founded by Hazoorilal Narang in the year of India's independence.
With an eye for detail and understanding a woman's desire for seeking a design that has international sensibility, as jewellers, Hazoorilal has established a strong stamp of recognition, quality and credible reputation and their customers continue to be loyal to the brand for three generations now. The heritage of Hazoorilal patrons also narrates the tales of aristocracy with prestigious clientele that include The Royal Families of Abu Dhabi and Saudi Arabia.
Driven by passion and deep love for jewellery, Sandeep Narang travels extensively across the globe in his quest to be abreast with latest international trends and as he strategically drives the footprint of Hazoorilal in world markets. From UK to Switzerland, Europe, Far & Middle East, he participates in leading international shows. As Sandeep explores the world through his frequent travels, he draws inspiration from his journeys to blend traditional Indian style with contemporary style trends.
Hazoorilal was also among the first jewellery houses to introduce certified diamonds to their clientele. Hazoorilal by Sandeep Narang is also the only brand in India to present the Lily Cut and Orchidea Cut diamond which are truly one of their kind pieces.
In heritage Indian jewellery, the lineage of Hazoorilal is unparalleled for heirloom pieces. Renowned for diamonds, gold, polki, kundan jewellery, and one of the early pioneers of coloured diamonds, their repertoire is also one of the largest in the country.
Both pioneering and rooted in tradition, Sandeep Narang, managing director and chief designer joined the family enterprise at a young age of 18 and meticulously honed his skills for years while gaining the industry wisdom of the business from his father. He now presents to the Generation Next, one of India's most trusted jewellery houses- Hazoorilal by Sandeep Narang at Greater Kailash- Part 1.
Sandeep's mantra in life is "to always stay on top of the curve". Punctual by nature, he devotes painstaking attention to build strong rapport with clients. Warmth and hospitality with personalized attention is an integral part of guest experience at Hazoorilal by Sandeep Narang store. Sandeep's vision is to expand the eponymous label in accordance with his father's guiding design philosophy to international markets and continue to innovate and strive for new benchmarks in quality, creativity and design.
The Flagship store at Greater Kailash Part 1 has been revamped with a state of the art look, reflecting European modern look. The new addition to the brand is their outlet at the ITC Maurya in September 2015 which has further established the brand presence. Hazoorilal By Sandeep Narang is now open at The DLF Emporio Vasant Kunj thus, further enhancing the luxury brand established over a period of six decades.