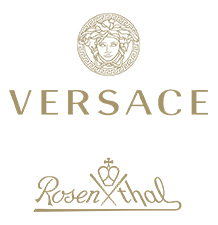 Scala Palazzo Verde
As you enter the Milanese palazzo in Via Gesù that Versace calls home, before discovering the famous mosaic of the world's most powerful feminine icon - the Medusa - a scenic marble staircase catches your eye. Swirling metallic spirals ascending into the Versace casa are the inspiration for the new "La Scala del Palazzo" fine porcelain dinner service from Rosenthal meets Versace collection. The architectural style of the collection is enriched by an elegant green and pastel rose palette, reminiscent of the classical Italian palazzi facades.
Prestige Gala Collection
Gold baroque elements and a bold silver Greek key frame a luxurious vase and two imposing lions – the eloquent details of the new Prestige Gala collection. Inspired by the iconic Versace print "Le Vase Baroque", the new design is enriched by gold and platinum embellishments, emphasized in black and turquoise. With a second variation in bright turquoise color – the Prestige Gala Le Bleu, the new range reflects the elegance of the iconic Prestige glass collection, and is the coronation to the Medusa Gala series.
Medusa Gala Gold
Medusa Gala« from the Rosenthal meets Versace collection is a new luxurious and elaborately decorated tableware range that complements the glamorous Versace Lifestyle line. Inspired by the ambience of opulent dinner parties, the design replicates the traditional Versace motifs – the iconic Medusa head and intricate Baroque ornaments – and adds an exciting contrast of white and gold to create a contemporary table arrangement. The »Medusa Gala Gold« line, adorned with a full-faced gold plume and ribbon motif, is even more luxurious.