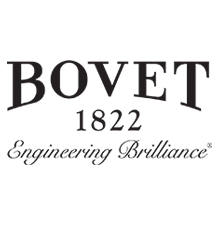 Bovet Watches - Engineering Brilliance
In a bid to revive the long lost tradition of engraving and decorative arts in the watchmaking industry, Pascal Raffy resurrected Bovet in 2001, a brand synonymous with miniature paintings on the dials and a distinct approach towards decorative cases.
Bovet was initially founded by Édouard Bovet in 1822, a Swiss watchmaker. At that particular time, London was considered the heart of the watchmaking industry. So, Bovet decided to move his watchmaking operations to the city of London. From 1822, the house of Bovet started churning out timepieces under the name of Bovet Fleurier in London. Known for crafting timepieces that were embroidered with hand-made miniature paintings, the brand was noticed by the Emperor of China and enjoyed a significant following in the Orient.
The Fleurisanne
The relationship between engraving timepieces and Bovet is almost inseparable. This is further reinforced by the introduction of an engraving technique from the 19th century, the Fleurisanne. A speciality of Bovet, this technique is used to beautify the bridges, bars, and rotors of a movement. The process of carving metal in high-relief with a conflicting background, the Fleurisanne is a process that makes watches by Bovet unique.
The Fleurier
The Fleurier collection entails the Fleurier-ship of Bovet and depicts its history and tradition in the finest way. One such series under the Fleurier collection is the 19Thirty. Engraved with an ornamental pattern named the Guilloché on the dial, the 19Thirty series is a series of limited-edition timepieces.
Another Series that stands out in the Fleurier collection is Miss Audrey. The Miss Audrey series won the ladies watch prize in 2020 by Grand Prix d'Horlogerie de Genève—depicting the sheer excellence Bovet holds in the watchmaking sector.
The Dimier
The Dimier collection houses the Recital series, a perfect blend of Bovet's bearings and its craftsmanship. Known for the iconic bow at 12 o'clock, Bovet decided to create a series of timepieces that would lose the iconic bow and instead invest itself in the mechanical arena. This in turn created the Récital series, a series of timepieces that marks the mechanical acumen of the brand. This series includes the much appreciated 22 Grand Récital, the 23 Turquoise, the 26 Brainstorm, 27, and 29.
So, add a piece of timeless elegance to your collection of timepieces or start your horological pursuit at the Bovet Boutique by Ethos Watches at the DLF Emporio Mall, Vasant Kunj, New Delhi.