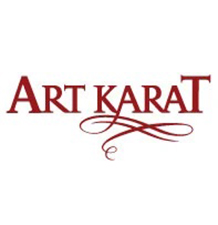 To envision the breathtaking view of a woman from head to toe in one's own creations, to do away with the conventional and passé styles and emerge with a distinct line of jewellery, to reflect a woman's inner most desires, to dream visual stunners which adorn a woman's body, such is the vision of ASHA KAMAL MODI, designer par excellence and the driving force behind the enchanting jewellery line 'Art Karat'.
Asha Kamal Modi launched her line in 1988, a time when the concept of designer jewellery was unheard in India; in face of acute cynicism she has carved a niche for herself as one of the most recognized jewellery designers of India. She draws her inspirations from the basic elements of nature together with the rich Indian heritage, studying its changing moods and traditions. Each of her designs is different in style, mood and craftsmanship, made to perfection by some of India's finest artisans.
Asha's creations cater to a wide canvas of both traditional and western tastes, blending majestically with whatever a woman wears. Asha has designed jewellery for more than 10 bollywood blockbusters some of which include movies like 'Devdas', Monsoon Wedding', 'Kamasutra', 'Zubeida', 'Ram-leela' and recently released 'Bajirao Mastani' . It is her deep-rooted sensitivity of being a woman and her exceptional creativity, which has made her a household name among the Indian affluent.
A trained gemologist, Asha has been felicitated for her talent with the President's award for design, the FICCI 2005 award and the prestigious Best Designer Accolade by the Gem & Jewellery Export Promotion Council, among many other recognitions, an recently she is awarded by Indian Council for UN Relations (ICUNR) and Public Diplomacy Forum for her best Jewellery Designs.
Art Karat was founded by Asha & Kamal Modi in 1988 with a vision to create an alternate line of jewelry that is based on silver and studded with only precious and semi-precious authentic gemstones, but commands the same respect as jewelry based on gold.
The Philosophy behind this vision was to create masterpieces that are brilliantly crafted, exceptionally designed and valued as art and invested in like heirlooms that are passed from generations to generations.
Asha Kamal Modi is the chief designer for Art Karat. She is a gemologist by profession and has won numerous accolades for design from the GJEPC. Recently she was recognized by the FICCI Ladies Organization as one of India's 20 most influential women who have significantly contributed to the economic reform of the country.
Art Karat employs more than 1000 craftsmen around the country making it the largest production facility in its category.
The jewelry is sold out of 150 self organized exhibitions held at 70 cities across 5 continents and 15 exclusive Art Karat Boutiques around India.
The Art Karat Brand is immensely popular amongst the upper middle Income Group of women who come from the south Asian decent settled around the World. Every year more than 25000 people buy Art Karat from the Companies' various locations.
The primary customer perception of Art Karat is that it synonymies extraordinary designs Designs, which have been showcased in more than 10 Bollywood, block busters including 'Devdas, Monsoon Wedding, Kamasutra, Zubeida, Ram-Leela and the recently released Bajirao Mastani.
Our lifetime polices for maintenance And Repair provides Most of our customers a sense of security and gives the brand more leverage against other jewellers.