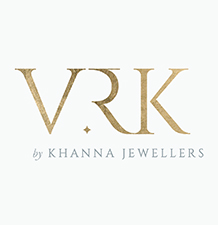 VRK by Khanna Jewellers represents institutional heritage and innovative, forward-thinking jewellery design. Built upon the parent brand's illustrious legacy across 68 years, it carries forward the same reputation for indisputable quality and unshakeable trust. Khanna Jewellers was founded in 1953 under the inspired guidance of late Sh. Wazir Chand Khanna. VRK represents the initials of the founding brothers from the second generation, his sons, Kewal Krishan Khanna, Raj Krishan Khanna, and Vijay Khanna.
VRK is also an artistic take on the traditional word, 'varak,' or gold sheet, often the first step in impeccable jewellery craftsmanship.
After 2 prominent parent brand stores in New Delhi, VRK by Khanna Jewellers at DLF Emporio presents experimental jewellery engineering in an intimate salon setting, for a modern, youthful audience. Familiar motifs have been moulded into occasion wear show-stoppers, or everyday statement pieces, in prêt and high jewellery categories. Vibrant colours that highlight the natural character of stones and metal, or ingenious mixed-media combinations inspire delight - and fun!