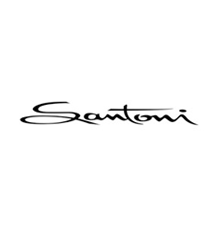 India has proven itself to be a great destination for premium brands from around the world. The country abounds with people who value workmanship and take pride in endorsing the best. Now, adding to the list of coveted international trendsetters in India is Santoni, a pioneering handcrafted shoe design studio since 1975.
Santoni is one of the few footwear brands in the world with a 100% in-house manufacturing facility. That would mean every Santoni shoe is hand-stitched, hand-shaped and hand finished. The result is a unique masterpiece, with unrepeatable amazing nuances - a true mark of the finest Italian mastery. The most unique aspect of a Santoni shoe is the colouring – particularly the depth of colour, given the softness of the leather. This is achieved through an original hand-colouring technique in which colour recipes handed down over time are used by master artisans. The result is leather shoes in surprisingly striking colours and a wide array of designs for every season.
A range of masterpieces
The exquisitely stylish range by Santoni offers something for everyone - from boots to loafers to décolleté to sandals for women along with an equally wide range of products for men, and limited edition designs for both. Here, every shoe is a new story, catering to the pure individuality of its wearer.
State of the art craftsmanship
There are several distinctions that separate Santoni from its competitors within the exclusive club of the world's most famous and recognizable luxury brands. Each pair of shoes that comes out of their workshops is a guarantee of the same high quality craftsmanship and is the product of a team that works in step with tradition and the latest technology. The latest generation of materials is combined with the finest, most luxurious leathers, to achieve the perfect balance between the past and the future.
Additionally Santoni offers two exclusive bespoke services to their customers, 'Made to Order' and 'Made to Measure'.
Santoni's Made to Order allows a customer to design theirown shoe. They can select their size and style which then can be customized for the type of leather and colour.
In Made to Measure an artisan from Santoni's factory in Italy would fly down to take the mould and exact measurement of the customers foot. The client can then design the shoe as per his/her requirement. In short it means making your own shoe. The cost for a service like this would start from 7 lakhs.
A rich legacy
When Andrea and Rosa Santoni founded Santoni, their aim was to create perfect, and therefore, shoes manufactured exclusively in their own workshops. The company is now led by their son, Giuseppe Santoni, who is persevering with the family mission, successfully combining the excellence of the past with today's demands in eco-friendly workshops, which now measure more than 15,000 square metres. The distinctive features of pure Made in Italy have remained unchanged throughout time. Manufacturing in- house is an important principle at Santoni, which guarantees absolute quality. Or as Andrea Santoni its founder puts it, "It is not just the know-how. It is a high-qualified heritage that Santoni offers to the new generations in order to guarantee a successful craftsmanship work."
Perfect retail experience
Santoni's much awaited arrival in India is the result of collaboration between Kapoor Watch Company and La Archplan which led them to start Luxerati Retail. "The new retail destination is nothing short of an ode the highest Santoni craftsmanship. You can count on an aesthetic and customer-oriented experience that is exactly the one you will have when entering their signature flagship store in any part of the world," says Sanjay Kataria, Managing Director at La Archplan.
So head over to DLF Emporio Mall soon to experience the exquisite eartistry expressed in each Santoni piece, in a store where you are welcomed as a true connoisseur.