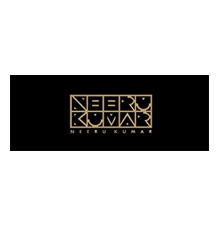 In the world of handcrafted textiles, Neeru Kumar is a rare and inspired talent, who has pioneered something of a revolution in Indian textiles. The combination of her unique sensibility, a profound knowledge of textile techniques and a strong commitment to support craft traditions has brought new life and energy to the sector and transformed its possibilities.
Always working with natural materials and traditional techniques but with continuous research and experimentation in her design studio, Neeru's work is constantly innovative. Her incredible understanding of tone and texture and her own preference for more graphic, minimal, uncluttered design, make for a strikingly contemporary sensibility . Brand Neeru Kumar connotes subtle elegance and a timeless ,classic aesthetic, that looks right and fits well in many different contexts - an international brand with strong Indian roots.
Neeru's repertoire includes sarees, garments, fashion accessories and home collections. Textile techniques like ikat, jamdani, shibori, kantha have been employed in a multitude of novel ways with a sensitivity to fashion trends.