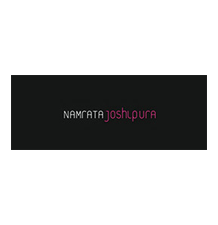 Namrata's vision is that of a global aesthetic. Her clothing easily translates across geographies and other artificial constructs such as age, race and point of view. The Joshipura line fuses contemporary silhouettes with modern interpretations of artisanal embellishments.
The line encompasses tunics, kurta sets, saris, tops and dresses.
Known for her wearable clothes, Elle India, in their 2009 Style Awards, characterized her as the 'queen of pret.' Her Spring 2010 collection, 'Blade Runner', was also selected by Vogue India as one of the standout collections of the season.
Her clothes are retailed in India at her three stores: DLF Emporio (Delhi), The Crescent (Delhi) and D7 (Mumbai).
Internationally, the clothes are sold at Bon Marche (Paris), Sauce (Dubai), American Rag (Los Angeles), United Arrows (Tokyo), L Square (Egypt) and Beams (Japan), to name a few.
She splits her time between New York and New Delhi.