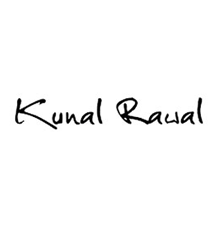 THE FOUNDER
Kunal Rawal, the youngest designer to exhibit his collection at the lakme fashion week, is a mumbai based fashion designer who specialises in men's fashion. He started his label 'Kunal Rawal Dstress' in 2006. Having graduated from London School of Fashion, his style of design can be best described as a mix of contemporary silhouettes and indian embellishments.
He takes cues from his father's style statement to design his masterpieces. The brand takes a lot of industrial inspiration and often uses cheek and tongue humour when coming up with a particular design. Kunal was first introduced to the garment industry after which, once armed with the knowledge of construction, silhouettes and textiles, he opened his first store 'dstress' in juhu.
He has worked for several prominent personalities in bollywood and celebrities like anil kapoor, shahid kapoor, arjun kapoor, ranbir kapoor, siddharth malhotra, varun dhawan, prateik babbar and more have closed the show for him. Kunal rawal has also designed the jerseys for ipl teams like rajasthan royals and royal challengers bangalore. Kunal rawal has also collaborated with salman khan's clothing brand 'being human' for their exclusive collection of garments.
Kunal Rawal's design aesthetic unites 'traditional work of art' with 'functionality'.' and the young designer – believes that fashion should be fun and not restricted. As much as he wants men to have a cupboard full of options when it comes to traditional outfits, kunal also wants them to have an alternative when it comes to clothing.the designer's expansive knowledge and experimental design aesthetic has resulted in strong brand positioning for kunal rawal label.
THE LABEL
Kunal Rawal label uses various design constituents like knotting techniques, pleating, metallic work etc. With an abundance of knowledge about the indian market and fashion design, kunal rawal label has created their own niche in the fashion industry.
The label, apart from being a luxury indian contemporary brand, has become popular for its non-conformist and multi-functional approach toward design; the label speaks about its cultivated imperfection and unconventional aesthetic while being deeply rooted in its indian culture. With signature design elements like tonal palettes and clever play on textures, kunal rawal label also embodies sophistication.
The brand's embroidery techniques have garnered recognition within indian fashion circuit and beyond. Experimental design aesthetics combined with the designer's expansive knowledge of indian market has resulted in strong brand positioning for the label.
For this year's collection, the label will be playing with more colours. "When it comes to a personal closet tweak, one change I'm doing this year is I'd like to play more with tailored fits"- the designer quoted.?talking about embroidery, printing, textures, silhouettes, one cannot help but wonder what the designer will bring on the table when he says that he will be bringing for colour. Since the new decade is all about experimenting, adding new colours to the collection will be a welcoming development. We all know how kunal rawal has brainstormed to build modern pieces for men's fashion, what we don't know is that the designer is also working on coming up with traditional pieces with a saucy twist.