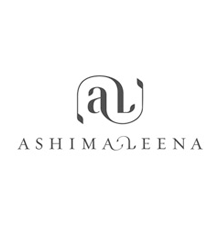 Leena Singh who took on the role of the curator & business director of the brand 'Ashima-Leena' is a graduate in English with a master's degree in English literature and a law degree with specialization in taxation but her passion for fashion along with her ability to identify creative acumen and her expertise in fashion retailing and merchandising landed her in the Fashion industry. She is now piloting the brand alone, designing collection after collection …. season after season … where each piece is designed and crafted like a limited edition. The focus of the brand is now the Art of textile crafting for the Couture line and exclusive prints developed in-house for the luxury pret line.
The brand Ashima-Leena, being one of the most senior and recognized brands of the country, has created a unique style of their own, reflecting the ancient traditions of Indian craftsmanship in a contemporary vocabulary. Borrowing inspiration from the rich heritage, art and design of the Indian culture, a diverse approach manifests itself in its creations, which spans across the royal Indian costumes of the 18th century, through the modern, cutting-edge styles of today. The brand is known for the Art of antique textile crafting which weaves a narrative of juxtaposition, a tale that captures the refreshing youth without forsaking richness and regality
Currently employing over a hundred and fifty karigars, AL is based at the outskirts of the capital city. The AL doorway leads to a vast body of work that comprises of a niche country-wide clientele for Indian Couture, international loyalists for wedding trousseaux, government projects, inter-cultural associations and a strong focus on multidisciplinary design. Prominence on textile, attention to detail, fabric development and complex grand embroideries are the trademarks of the ingenuity of the brand
Famed for one-of-a-kind ensembles, AL has never resorted to a revised-pricing format, even at the end of a season. This is as much a business decision as it is a function of the passivity of a premium luxury product that is self-limiting and decidedly so. AL Essential Editions as well as the textile derived ready-to-wear are housed at the AL flagship at the DLF Emporio, New Delhi.