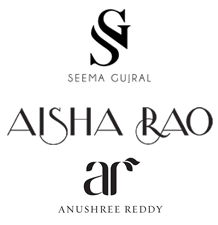 Discover bridal masterpieces by Seema Gujral, Anushree Reddy and Aisha Rao at DLF Emporio.
Seema Gujral's collection is an ingenious blend of traditional crafts and new-age accents, made keeping the modern woman in mind. Using superior fabrics and standout embellishments, it is coveted by today's brides-to-be.
Anushree Reddy's designs feature a beautiful floral ornate. The label's signature creations are wish-listed by every bride who likes to embrace ethnicity while keeping it in sync with modernity. The label is also a favourite among celebrities and style icons.
Aisha Rao is a leading Indian designer whose vision lies in creating unique, upcycled ensembles with a traditional touch. The radiant designs are perfect for the maximalist bride of today, who wishes to showcase her individualistic style for her big day.