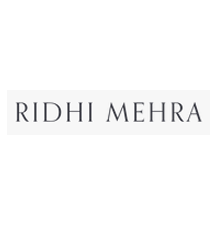 Ridhi Mehra's eponymous label is a contemporary take on refined Indian dressing. Striking yet free-spirited, her ensembles bring western aesthetics to traditional wear while reinventing silhouettes and constantly pushing the boundaries of affordable luxury. Clean lines, delicate details, and a hint of drama are Ridhi's signature which has made the brand stand out in today's crowded marketplace.
The label focuses on producing an array of delectable couture pieces meticulously handcrafted in indigenous detailing. Paying tribute to the Indian craftsmanship, the label also carries intrinsic elements of Parisian and Grecian cultures with an emphasis on fine tailoring and sophisticated cuts incorporating traditional Indian embroideries, embellished in a refined, modern approach.
The label tries to find balance in creating timeless pieces that are treasured forever and are modern heirlooms.