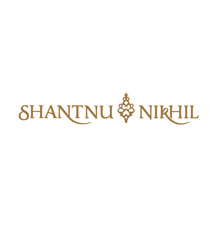 Culling the essence and emotions of Indian culture and marrying it with a modern western sensibility, Shantanu & Nikhil have a deeper, less obvious take on the new exotic fusion. Their ensembles present eternal femininity draped in lush classicism.
Communicating through a colour palette that envelops India in its purest form, from the virginal whites to the vintage chromes, it has become a true signature of Shantanu & Nikhil. They believe that the smart interplay of vintage colours on beautiful Indian skin tones is what makes India such a hugely inspirational land of cross-cultures and future global trends.
Owing to their unique subtext of delicate details, simple harmonies and rich textural formats, the brand has come to epitomize refinement and luxury in fashion. While keeping the handwriting essentially subtle with Indian monochromatic tones, the language is most definitely contemporary and silhouette centric, the perfect blend of contemporary and vintage.