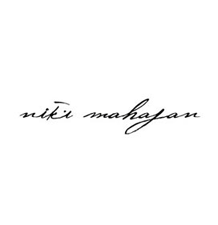 Our world, at Niki Mahajan is a place filled with constant adventure of seeking new routes into the various, innumerous and infinite number of crafts found in India. We go into the heart of India to find creative craftsmen, train them, inspire them and work with them to create a design that speaks the language of modern India.
The design house specializes in hand made products and therefore provides a look that only machines can dream of. Each meter of fabric is textured through some form of craft or the other. The garment that you hold at a Niki Mahajan store has been painstakingly painted using brushes and further printed using wooden blocks, a craft that moved from Persia to settle in India.
Niki Mahajan, the creative director has carved a niche for her designs globally. Niki has devoted most of her career in learning about the various crafts of India and has also been awarded a national award for assisting and development of various crafts. Today the designer is known for her burst of colors and her ability to flawlessly bridge the old with the new. Each design of hers is an amalgamation of numerous hand crafted techniques, entwined artistically and reinvented to appeal to cultures across the globe.