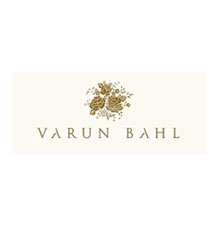 Varun Bahl, is one of the few remaining true artists and couturiers' in the Indian fashion industry. He is one of a handful of designers who has stuck true to his style and artistry in the onslaught of tasteless commercialization of the fashion design business. He is best known for creating style signatures within global styling cues so that his clothes are fashionable but unique.
Best known for his expertise in blending the classic with the contemporary, the antique with the new and innovative use of fabrics to create a dreamy love affair for today's kind of customer- a reflection of elegance, avant-garde, non-conformist yet rooted in classics. Most of his clients swear his clothes are their heirlooms like jewelry because of their classic sensibility and incredible quality.
The belief of the label is to pave the way for couture to be embraced as part of one's daily wardrobe with the generous use of exotic motifs and rich luminous tones like old rose, fuchsia and reds reflecting luxe glamour that makes a statement. Be it a new spin on old classics like anarkali dresses in pastels or sari-gowns in sensuous colors which make for the perfect style statement for an evening soiree or that special occasion.
His extremely loyal client base comprising of Bollywood celebrities, known personalities from different walks of life, fashionista's and fashion critics alike. Varun Bahl designs embody glamour, sophistication and are an inherently sexy luxe style statement.
A design graduate from the National Institute of Fashion Technology, New Delhi, Varun launched his label in 2001.
Varun showcased his Spring/Summer 2004 collection at White in Milan to international acclaim and great commercial success. He was also chosen by Camera Nazionale Della Moda Italiana, Milano to showcase his SS '07 and AW '07/'08 at Milan Fashion Week, making him one of the first few Indian designers to have participated in the event. Varun Bahl has a commercially successful menswear pret label with acclaimed Indian filmmaker Karan Johar called Karan Johar + Varun Bahl since 2010.
Varun's label is available in stores across the United States of America, United Kingdom, the Middle and Far East as well as in Delhi, Mumbai and a few other cities in India.
"My definition of fashion is luxury, and for me, luxury is happiness. Bohemian minded, in control, mature and experimental - that's how I see my individual buyer." - Varun Bahl